Wolf is a name you may not be familiar with in the world of decking. But truth be told, the company is actually about 180 years old! They manufacturer a variety of building materials and home renovation products, but if we do say so ourselves, their PVC decking is the BESTEST!
Wolf does manufacture a line of wood plastic composite decking as well in their Perspective series, and they even make a PVC porch board. But our interests and feature of this article lies in the Wolf Sereni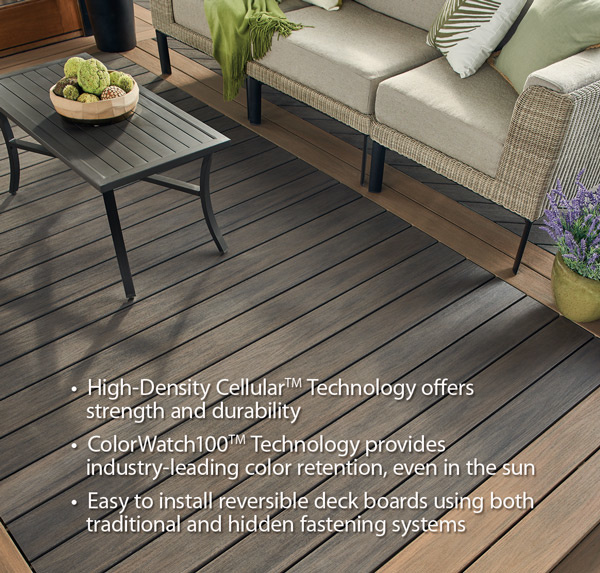 ty PVC decking line.
Wolf Serenity is a premium decking option that competes with the likes of Trex Transcend, TimberTech Azek, and Fiberon Promenade. And while the latter three may trigger your memory a little easier, there's no doubt that Wolf is every bit worth your consideration as the others mentioned.
In the effort of saving my own fingers, and a few brain cells, here is a copied list of features from Wolf's marketing materials:
- Premium ASA COLORWATCH100® Technology provides industry-leading color retention
- Moisture, mold and mildew resistance make it ideal for coastal applications
- Authentic color and texture of real wood
- Resists rotting, delaminating, splitting and cracking
- Strong and durable, yet very lightweight
- Reversible 1" x 5 ½" deck boards available in 12', 16' and 20' lengths as well as ½" x 11 ¾" x 12' rimboards
- ICC Code Compliant – ESR-2824
We couldn't have said it better ourselves! Literally. Thanks Wolf!
On top of those great list of benefits, Wolf Serenity is backed by a SUPER strong warranty that covers:
- Limited Lifetime Structural Warranty
- 50 Year Fade and Stain Warranty
- Extended WolfPro Labour Warranty
But what we love the most about Wolf is the absolutely STUNNING looks. There is not a better looking maintenance free deck board on the market (arguably of course). See below for their collection of beautiful options: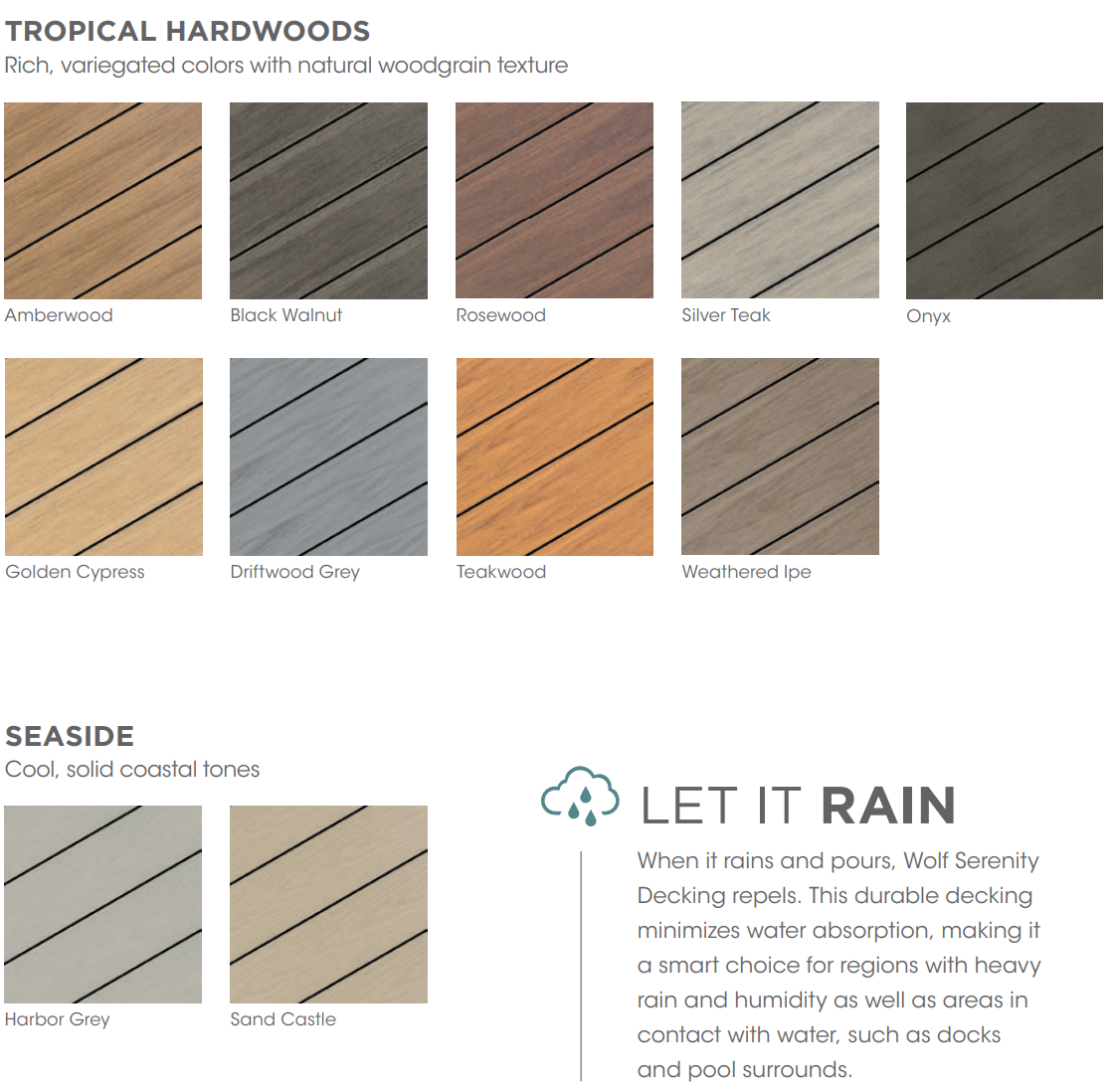 WRAP IT UP
So if you're looking to kick maintenance to the curb, and add some absolute beauty to your yard, strongly consider Wolf Serenity decking. The looks and the warranty make it one of the most compelling options in the industry today.
 

The Good

- Low maintenance
- Limited Lifetime Structural Warranty
- 50 Year Fade and Stain Warranty
- WolfPro Labour Warranty
- BEAUTIFUL colours
- Company stands behind its products

The Bad

- Scratches a little easier than most premium options
- Not as easy to find in stores
 

 
Learn more about Wolf at www.wolfhomeproducts.com
Wolf PVC decking is available in our stores in Regina, Saskatchewan and Saskatoon, Saskatchewan, as well as online at Wolf at TUDS.ca
Watch our YouTube Review of Wolf Serenity Decking!