Trex's position at the top of the composite decking world is not by accident. They have been in the game since the beginning, have been very aggressive with marketing, and offer a great product at a competitive price. Although they offer many categories of products from railing to pergolas to furniture, composite decking is their bread and butter and the focus of this article. 
Trex manufactures four lines of composite decking which they categorize into a "Good, Better, Best" system that reflects value and price. In the "Good" spot is the entry level Trex Enhance Basics and arguably Trex Enhance Naturals, the "Better" with Trex Select, and their flagship "Best" line with Trex Transcend. Every line provides you with some of the same features: low maintenance, 25-year fade and stain warranty, and a 25-year limited residential warranty that covers any potential product failures. Keep in mind that these warranties, as is industry standard, are pro-rated. So the amount of the claim rewarded diminishes over time. But at 25 years for a comprehensive warranty, it remains a very strong offer competitively.
Let's get into each line a little deeper. 
TREX ENHANCE BASICS AND NATURALS | Shop Trex Enhance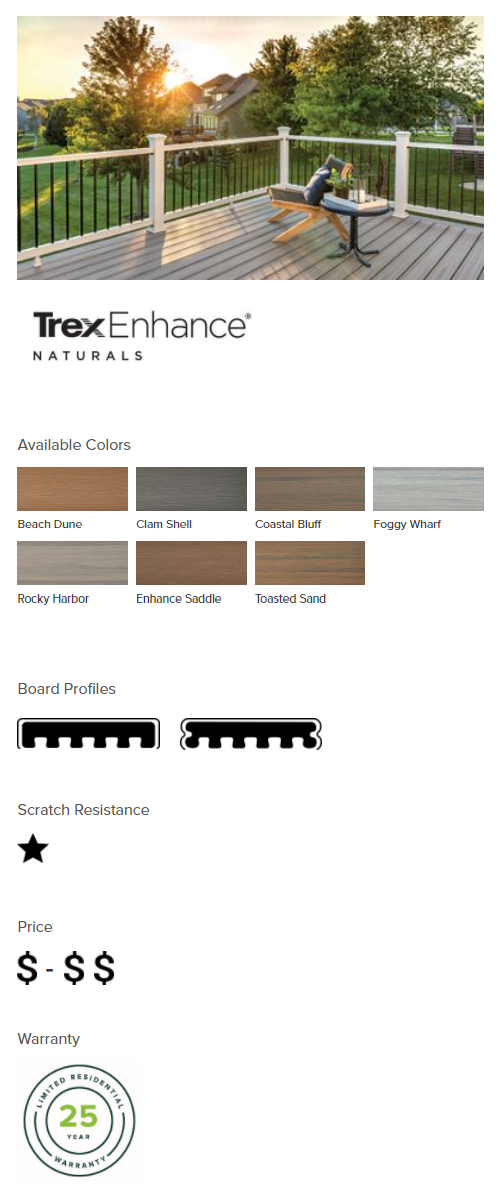 The Enhance line offers the most affordable option, while still giving you what most people want from a composite deck: low maintenance, no staining or fading, and a long warranty. With the lower cost, comes some compromises. The Enhance line has a "scalloped" profile. This means the board isn't a full thickness all the way through. It has ribs for strength, but in between the ribs, material is removed. This helps to reduce input costs and shipping weights which result in the lower price. For the average person, this does not mean anything. The board is still plenty strong and still installs on the same framing spacing (16" on centre max) as the Transcend Line (albeit closer spacing on stairs).
The bigger compromise comes with the scratch resistance. Let's just say, it's not great. Normal use on the deck is unlikely to be a problem, but if you know you'll have large, excitable dogs or lots of heavy furniture on your deck, that might be reason enough to look at the Transcend line. That said, every deck will scratch at some point - and scratching is never covered under warranty.
The final thing you give up is fastener finish - Cortex plugs are available for the Select and Transcend lines, but not the Enhance line. Cortex plugs are an ingenious way to hide your face screws by means of a plug that's cut from the same boards for a near-perfect match. It's not the end of the world. A colour matched screw is the next best option. But if you want the best of the best, then Cortex gives you the best finish.
Trex Enhance Basics is available in three solid colours: Clam Shell, Saddle, and Beach Dune. These three colours, being darker in shade, tend to show dirt and imperfections easier. We highly recommend bumping up to the Trex Enhance Naturals line which does a great job of hiding dirt and scratches with it's variegated streaking. Four colours are available: Foggy Wharf, Rocky Harbor, Toasted Sand, and Coastal Bluff.
TREX SELECT | Shop Trex Select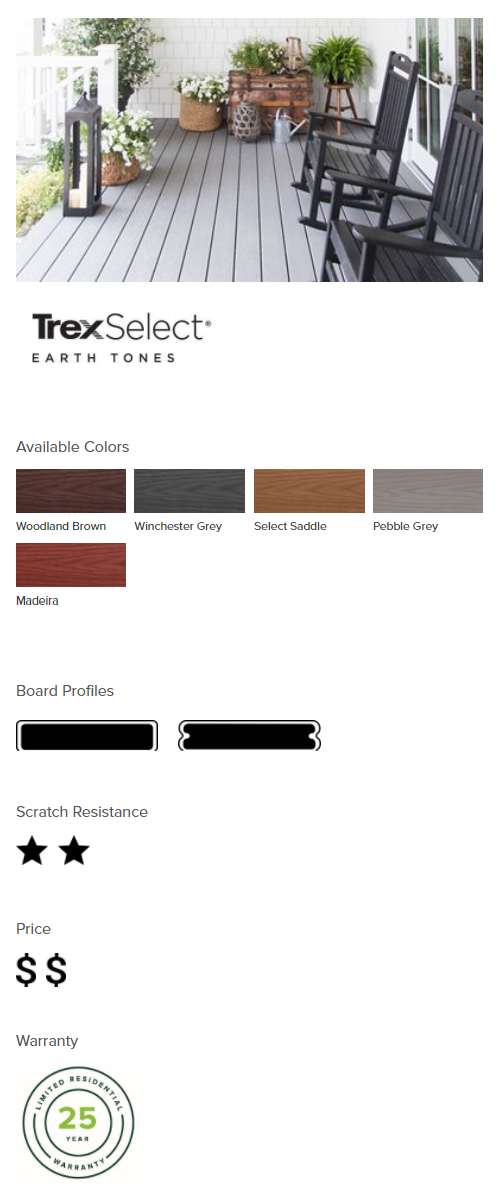 Trex Select is a solid thickness board at 7/8" thick and available in five solid colours: Pebble Grey, Winchester Grey, Saddle (yes we know, confusing), Woodland Brown, and Madeira.
With the Select line, you'll spend a little more money, gain a little bit better scratch resistance, Cortex plugs, and find some unique colours. No pretty variegation here however. These boards tend to look a lot more "plasticy" with a woodgrain embossing that points all one direction. If there's a colour that really catches your eye in this line, then maybe it's a match. But otherwise, we personally think the Trex Enhance Naturals represents a better value.
TREX TRANSCEND | Shop Trex Transcend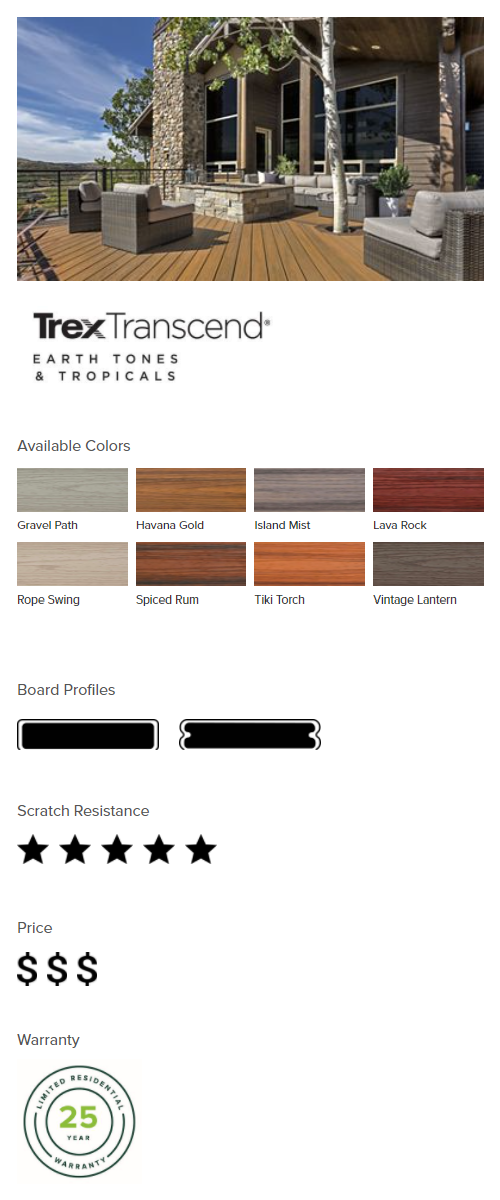 The Transcend line represents Trex's best effort in composite decking. This 3-side capped product takes a big jump forward in scratch resistance over the previous two lines. With the others not fairing too well with scratch resistance, Transcend actually has very high scratch resistance; amongst the best in the industry.
In addition to that added durability, you also gain a full 1" thick board giving you the strongest board in their offering, as well as beautiful variegated colouring that you see in all the fancy brochures. The catch, is that it typically costs more than double what Enhance Basics costs. But if it's in the budget, it's a worthy upgrade.
Some would argue that if you're going to do composite decking, you're best to wait until you can afford the top line product. It's hard to argue with that given that Trex Transcend line stands the best chance of still looking beautiful in 25 years from now.
Transcend is available in three solid colours: Gravel Path, Rope Swing, and Vintage Lantern, as well as five variegated colours: Island Mist, Tiki Torch, Havana Gold, Spiced Rum, and Lava Rock.
WRAP IT UP
If you Google "Trex issues" - you're going to find them. Back in the first generation of product, Trex did experience some failures. But be sure to look at the dates on those articles. There's no denying some issues occurred, however there is also no denying that the product has improved immensely since that time. Not only that, but Trex did a great job of standing behind their product and honouring a lot of warranties on those earlier products.
So if you're looking for a beautiful, low maintenance composite decking option, and find comfort knowing that the warranty has legs with a company that will continue to be around for decades to come, Trex will give you that peace of mind and quality that you expect.
The Good

- Low maintenance
- No fading or staining
- 25 year warranty
- Transcend durability
- Beautiful colours
- Multiple price points
- Strong business
- Market leader
- Easy to find
 

The Bad

- Enhance durability
- Board width inconsistencies
- Can be slippery when wet

 

 

 

 
Learn more about Trex at trex.com
Trex composite decking is available in our stores in Regina, Saskatchewan and Saskatoon, Saskatchewan, as well as online at Trex at TUDS.ca