You likely haven't heard of Deckorators. But that's about to change. The brand is actually decades old, but used to apply to deck accessories. The parent company (juggernaut) UFP shifted to use the brand for new lines of decking a few years ago and hasn't looked back.
Composite generally refers to WPC (wood-plastic composite), and Deckorators offers products within that line as well, specifically their Trailhead and Vista lines. Those lines are good looking products and priced competitively, but they aren't where Deckorators is making it's name. They are taking the industry by storm with a proprietary technology called MBC, or Mineral-Based Composite. Instead of using wood byproduct as the filler, they use a mineral compound that is impervious to moisture. And by stretching the material into form instead of a typical extrusion, they have found a process that results in an insanely strong, lightweight, and thermally stable product. And THAT is what has everyone clamoring to get some of that Deckorators! You can find MBC products in their Vault and Voyage lines, and that's where we will focus this article.
DECKORATORS VAULT | Shop Deckorators Vault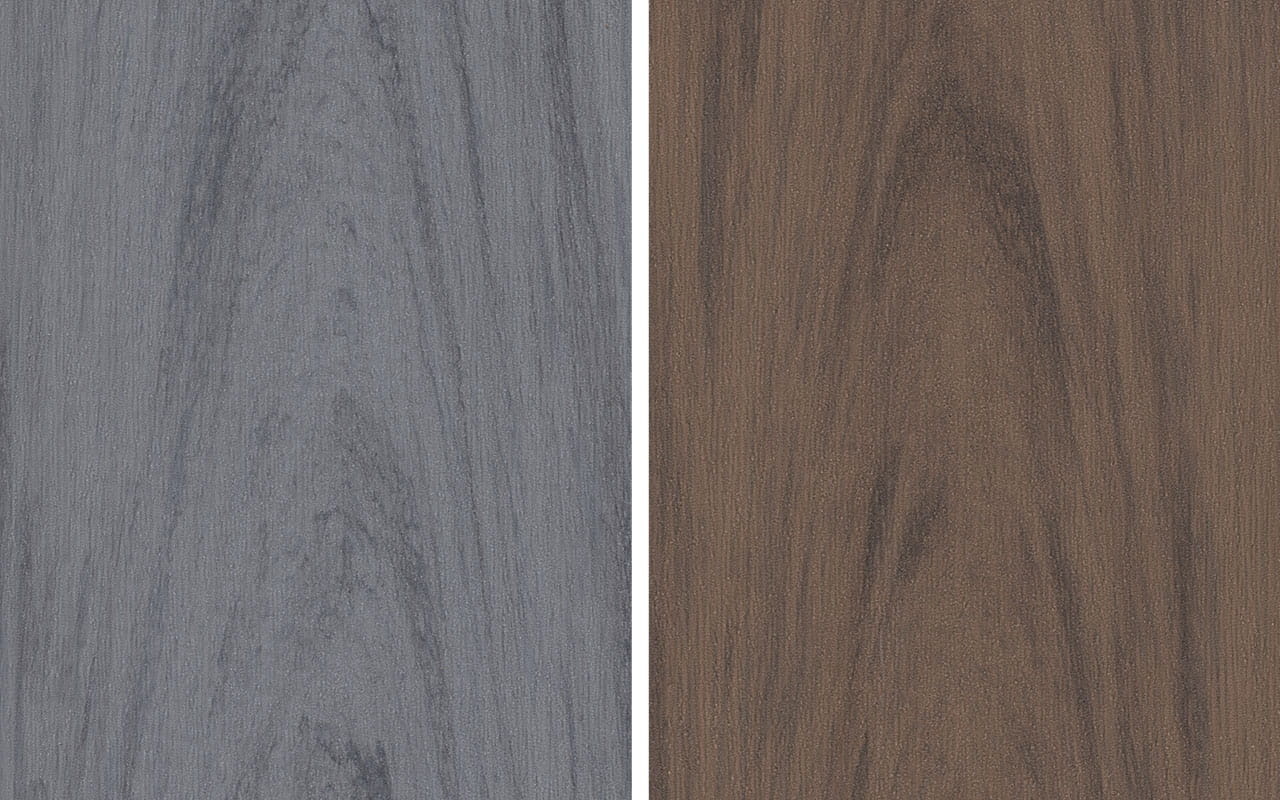 Deckorators Vault is now the "entry price point" into the MBC product category now that the former Frontier line has rode off into the sunset. As mentioned above, the Vault line offers all those great benefits of the proprietary process Deckorators owns. Vault offers beautiful colouring in addition to great strength, lightweight, thermally stable, dimensionally consistent, and really, really good traction. Excited yet?
Vault colours are limited to two: Dusk and Mesquite. The embossing is relatively flat, yet offers really good traction - better than any other composite on the market. The variegated streaking points one direction, like arrows, called "Cathedral grain." The price point is "low premium" which means it's more pricey than any entry level or mid-range composite - but it's on the low end of what premium deck boards usually go for. But it also provides a lot of benefit advantages over traditional WPC, so at the price point, it offers an incredible value.
The warranty is industry leading. You get a 25 year fade and stain warranty, and a 50 year structural warranty! But where it really stands above the competition is in it's industry leading 25 year removal and replacement warranty. That's pretty much unheard of. What that means is that if something should fail with the product, they will cover the labour costs to replace it as well. Nobody else comes close to offering that same level of labour warranty.
DECKORATORS VOYAGE | Shop Deckorators Voyage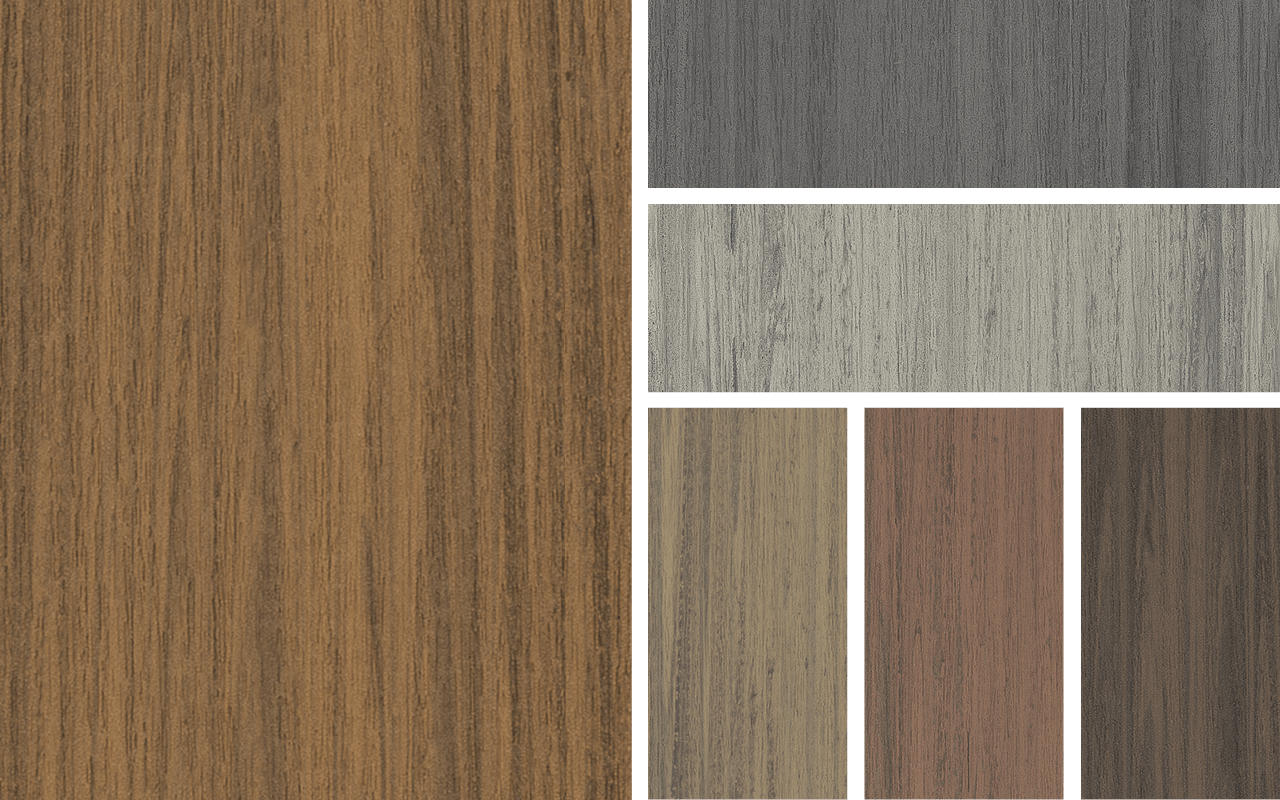 Deckorators Vault is GREAT. But Deckorators Voyage is INCREDIBLE. Take all of the benefits of the Vault line - lightweight, super strong, thermally stable, dimensionally consistent - and then make it even better looking and give it 34% better traction than any other product in the market.
Voyage has taken the industry by storm. Many contractors have left their old brands to jump on board with installing Deckorators Voyage because of its giant list of benefits.
Voyage comes in six colours in addition to a "Picture Frame Board" called Dark Slate that compliments each of the six colours perfectly. The colours are called Tundra, Sierra, Mesa, Costa, Khaya and the brand new Sedona. In addition to the array of naturally beautiful looking colours, they are also offered in a variety of widths to challenge your creativity: 3.5" wide, 5.5" wide, 7.25" wide, 9.25" wide, and 11.25" wide (availability of some widths may be limited).
When you have a deck board that looks as awesome as Deckorators Voyage, and then you tell someone that it has 34% better traction than any other board in the market, AND it virtually does not expand and contract (VERY minimal) so your mitres stay tight - well, enough said. You buy.
Wrap it up.

Deckorators has a winner in it's MBC product lines. Priced comparably to other premium offerings in the market, but with a laundry list of advantages, it's no wonder that they have seen such enormous growth over the last few years. For lower priced options, you can check out the Trailhead and Vista lines - but you give up all the advantages of the MBC technology.
If the budget is there, it's hard not to say that Deckorators Voyage should be at the top of your wish list.
The Good

- Low maintenance
- No fading or staining
- Industry leading warranty including labour
- Beautiful colours
- Mind blowing traction
- Minimal expansion and contraction
- Lightweight yet strong
- Dimensionally consistent
- Durable to impact
 

The Bad

- Scratch resistance is average (we are really nitpicking to find something to put here)

 

 

 

 
 Learn more about Deckorators at deckorators.com
Deckorators decking is available in our stores in Regina, Saskatchewan and Saskatoon, Saskatchewan, as well as online at Deckorators at TUDS.ca