So you need to add railing to your deck. Not only is it a safety requirement, but it can also play a big part in the aesthetic and function of your project.
Of the many types of railing out there; composite, PVC, steel, and aluminum, we believe that aluminum railing provides one of the best feature sets balanced with a good price point. And when it comes to aluminum railing, the leader in the industry is Regal Ideas.
Here are 5 reasons why we think Regal Ideas is a great choice.
1. EASY TO INSTALL
Regal Railing is very simply to install, which makes it a nice day project for even the most green DIY carpenter. It is sold in parts which makes for easy transport. Your primary parts include your posts, top and bottom rails, and picket packs. While there are some other bits and pieces that go along with it, it's made up of primarily 3 components. To install, you simply mount and plumb your posts, cut and install your rails, and finally snap in your pickets. To see just how simple it is, check out this install video: Regal Ideas Rail Install
2. VARIETY OF COLOURS
Just about any railing brand will give you black and white options. And to be fair, black and white will work on just about any deck. But Regal Ideas takes it a step further and offers 6 colour options in their standard rail which ensures you can find exactly the colour that you want to compliment your deck boards and house:
- Textured Black

- Gloss Black
- Gloss White
- Textured Yard Bronze
- Textured Taupe
- Textured Titanium Slate
3. INFILL OPTIONS
Regal's simple system doesn't hold you back from achieving the look you want. Along with the standard and common pickets, they offer a variety of infill options as well as accessories to allow you to customize your look:
- Narrow Pickets
- Wide Pickets
- Glass Panels
- Glass Pickets
- Narrow Decorative Pickets
- Wide Decorative Pickets
- Decorative Circle Accents
4. LIGHTING ACCESSORIES
We absolutely LOVE adding lighting to your outdoor project, and Regal makes that simply with their LED strip light system
It works with all of their infill options to provide a beautiful aesthetic in the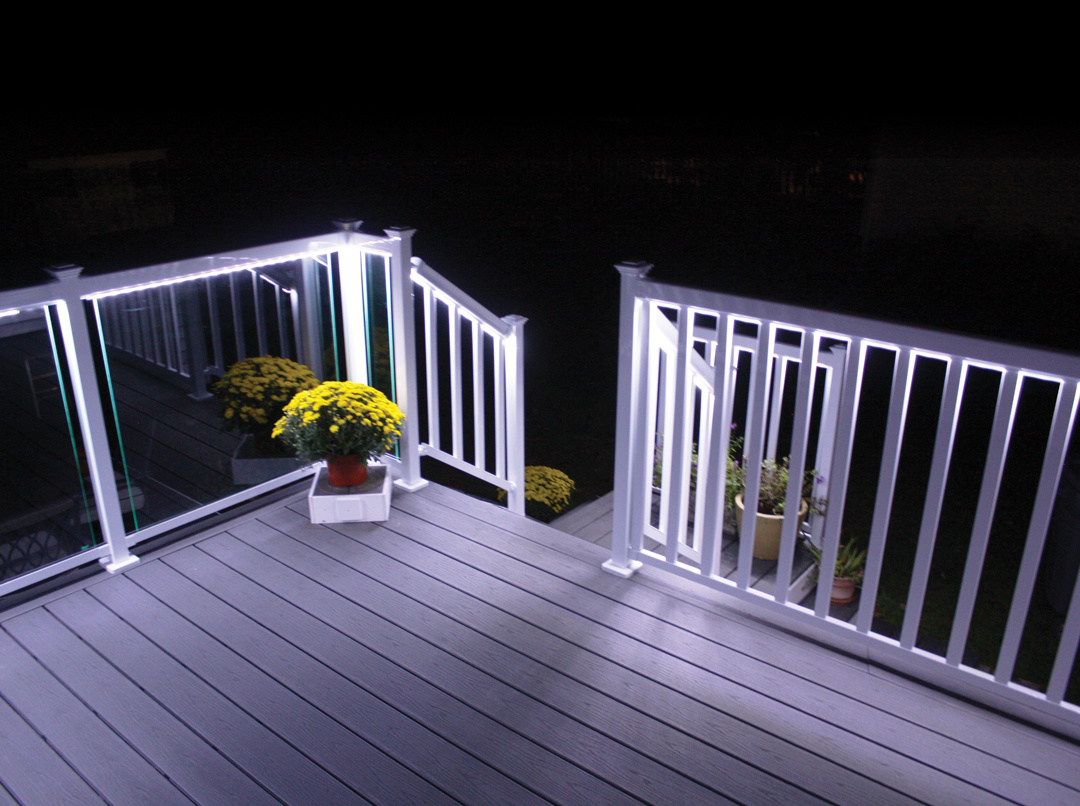 evenings. The lights are powered by a small low voltage transformer and a wireless remote that allows you to change the brightness and change the colour! The system is easy to install, and priced reasonably. Splurge a little and add the lights! You won't regret it!
5. CRYSTAL RAIL
Now if you're looking for something completely unique, then check out CrystalRail by Regal Ideas.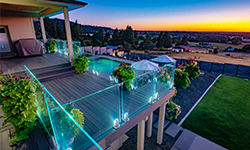 This frameless glass system is a completely different system from Regal's standard rail. This system features a complete frameless glass panel, set in a couple mounting pods that gives you absolute preservation of your view. The pods have lights built in which causes the edges of the glass panels to come alive at night with a beautifully modern, wow factor. If you want to knock your socks off, have a serious look at CrystalRail! 
For more great info to help plan your next deck project, check out our YouTube Channel!